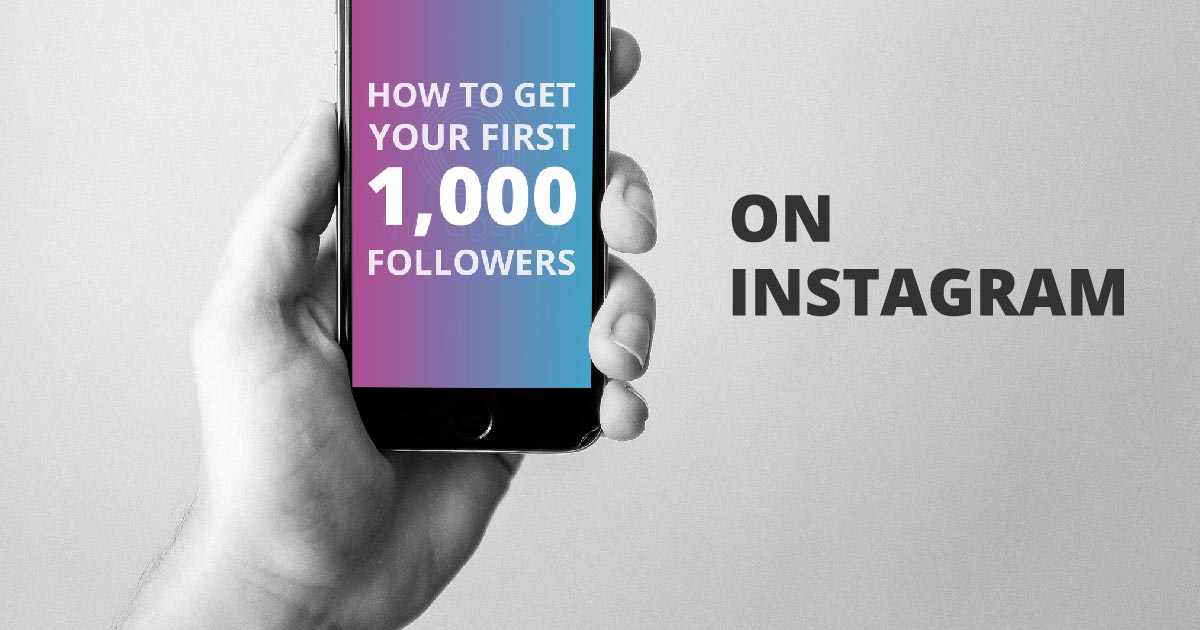 How can I get 1000 followers on Instagram?
Gaining followers on Instagram requires a combination of strategic planning, engaging content, and consistent effort. While there is no guaranteed method to instantly get 1000 followers, here are some effective strategies you can implement to increase your follower count:


Optimize your profile: Create a compelling bio that clearly describes who you are and what your Instagram account is about. Use a recognizable profile picture and include relevant keywords in your bio to make it easier for users to find you.


Post high-quality content: Focus on creating visually appealing and engaging content that resonates with your target audience. Use high-resolution images, apply filters or editing techniques if necessary, and maintain a consistent aesthetic or theme for your feed.


Use relevant hashtags: Research and incorporate popular and relevant hashtags into your captions to increase the discoverability of your posts. You can use tools like Hashtagify, RiteTag, or Instagram's built-in search to find popular and trending hashtags in your niche.


Engage with others: Actively engage with your existing followers and potential audience by responding to comments, liking and commenting on their posts, and following accounts that align with your interests or target audience. Genuine interaction helps build connections and attract attention to your own profile.


Collaborate with others: Partnering with other Instagram users or influencers in your niche can expose your account to a wider audience. You can collaborate on joint posts, giveaways, or shoutouts, which can help you gain followers from their existing followers.


Utilize Instagram Stories and Live: Regularly use Instagram Stories to share behind-the-scenes content, sneak peeks, or personal moments. Going live on Instagram can also help you engage directly with your audience in real-time and attract new followers.


Cross-promote on other platforms: Leverage your presence on other social media platforms (such as Facebook, Twitter, YouTube, or TikTok) by promoting your Instagram account. Encourage your followers on other platforms to follow you on Instagram for exclusive content or giveaways.
Regular posting schedule
Being consistent and posting on a regular schedule will help you quickly gain followers. Give people a reason to want to follow you. They're not going to come to you if you're not posting consistently and giving them engaging content on your feed or in your Story on a regular basis.


Is it possible to get 1K followers on Instagram?
To get 1K followers on Instagram, choose a theme for your account and try to keep your content within that theme to maintain cohesiveness and appeal to a specific group of people. Next, post unique, quality photos and videos consistently, and always attach relevant and trending hashtags to your posts.


How much is 1k followers on Instagram?
What Does 1k Followers Mean on Instagram? 1k followers mean 1000 followers, it is a shortcut version when you don't want to say one thousand followers, a faster way to say it is 1k. Therefore, saying 1k followers save your time which it's another tip to grow IG page faster.


What is the best time to post on Instagram?
What are the ideal times to post on Instagram (in EST)?
Monday: 6 AM, 10 AM, 10 PM.
Tuesday: 2 AM, 4 AM, 9 AM.
Wednesday: 7 AM, 8 AM, 9 AM.
Thursday: 7 AM, 8 AM, 11 PM.
Friday: 5 AM, 1 PM, 3 PM.
Saturday: 11 AM, 7 PM, 8 PM.
Sunday: 7 AM, 8 AM, 4 PM.


How fast can you get 1000 followers on Instagram?
It may takes up to 3 months for you to get your first 1000 followers if you follow for follow, engage in Instagram activities (comments on public posts, like public posts, use hashtags)
or
you can increase 1k followers in 1hour
just follow my steps
step-1 visit website https://social-india.com/ and create new accounbt here
step-2 now add some fund with your card or any other payment gateway
step-3 choos category instagram followers and choose a followers service according to your budget
step-4 put your profile link and quantity and place order .


your followers will delivered in 1 hour .
Note- account must be public